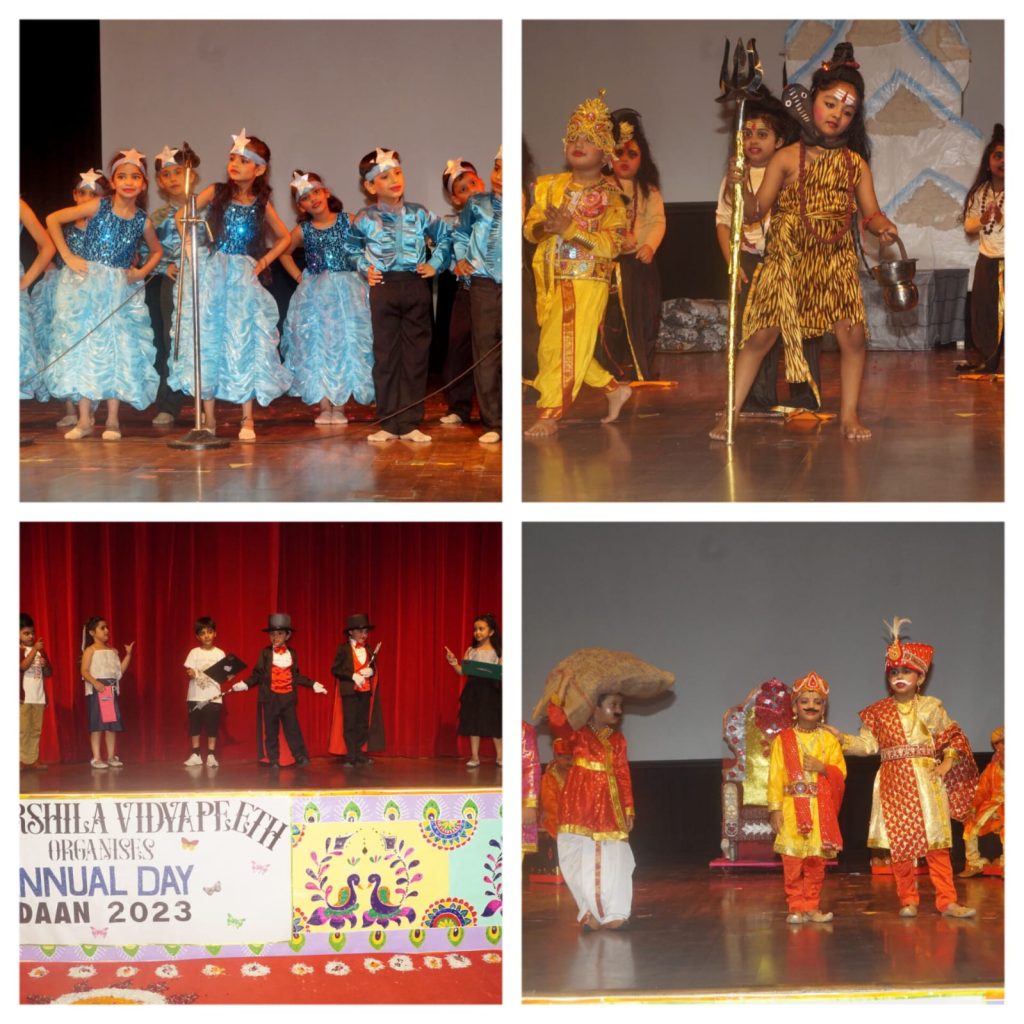 UDAAN 2023
𝙏𝙝𝙚 𝘼𝙣𝙣𝙪𝙖𝙡 𝘿𝙖𝙮 (PS-II)
The Annual day -'Udaa' of our school ,which we eagerly anticipate each year, involves extensive preparations and features a variety of events. It was a day when school commemorated another year of its existence and acknowledged the accomplishment of its students in academics, sports and other extra curricular activities throughout the year.
The evening was witnessed by the parents and some notable personalities from the education field. The students from Classes -Pre School to II entertained the audience with various cultural performances shown with the help of a book which includes topics like mythology, sports , value education, dance forms and fiction. The event ended with an inspirational speech by the Chief Guest , Professor KP Singh.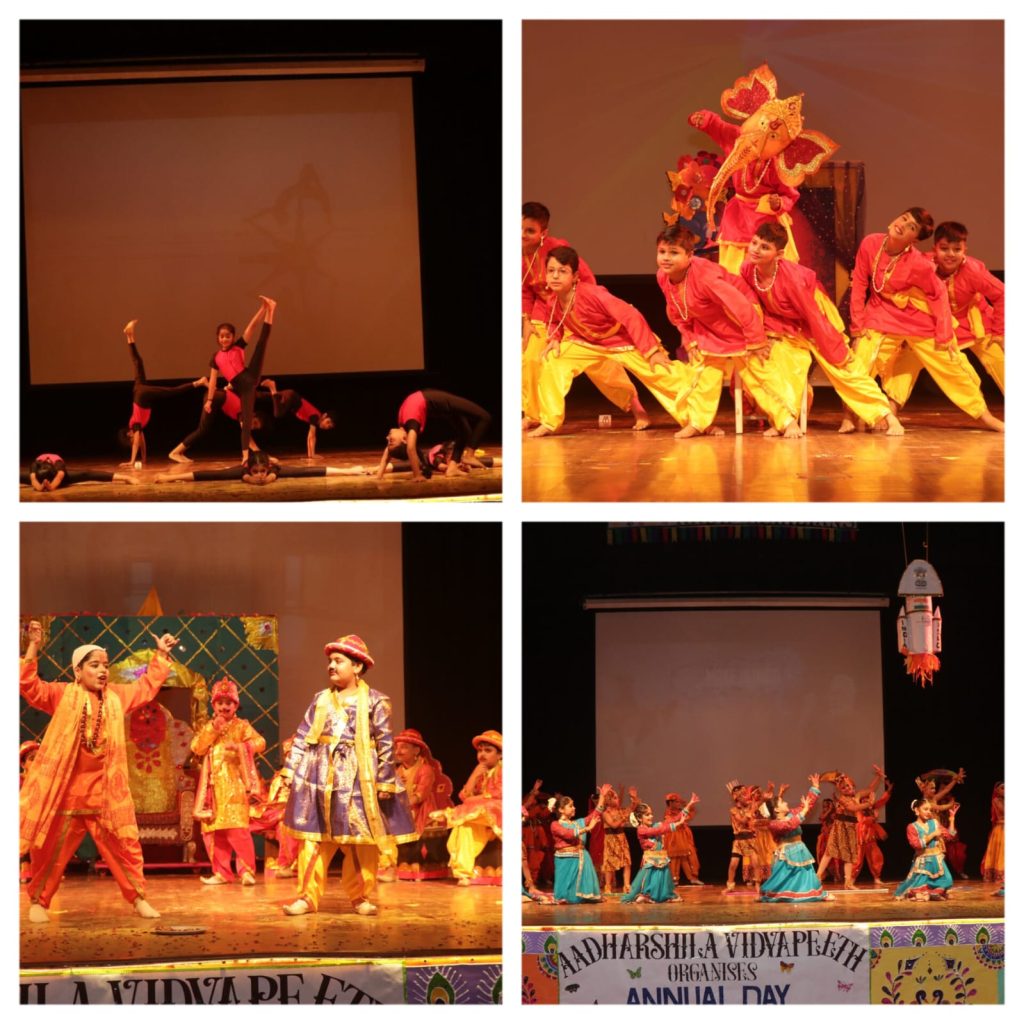 NAVRANG 2023
𝙏𝙝𝙚 𝘼𝙣𝙣𝙪𝙖𝙡 𝘿𝙖𝙮 (III-V)
Aadharshila Vidyapeeth organised its Annual Day -NAVRANG 2023 for classes III-V with great zeal and enthusiasm.
The event commemorated with traditional lamp lighting by the special guests
NAVRANG was full of celebration,felicitation and festivity where our little aadharshilians presented their heartwarming and wonderful performances.
The school witnessed the spectacular performances of our zealous tots in the area of dynamic drama, classic choir, dazzling dance performance and outstanding theme-based acts followed by some aesthetical acts of yoga and judo.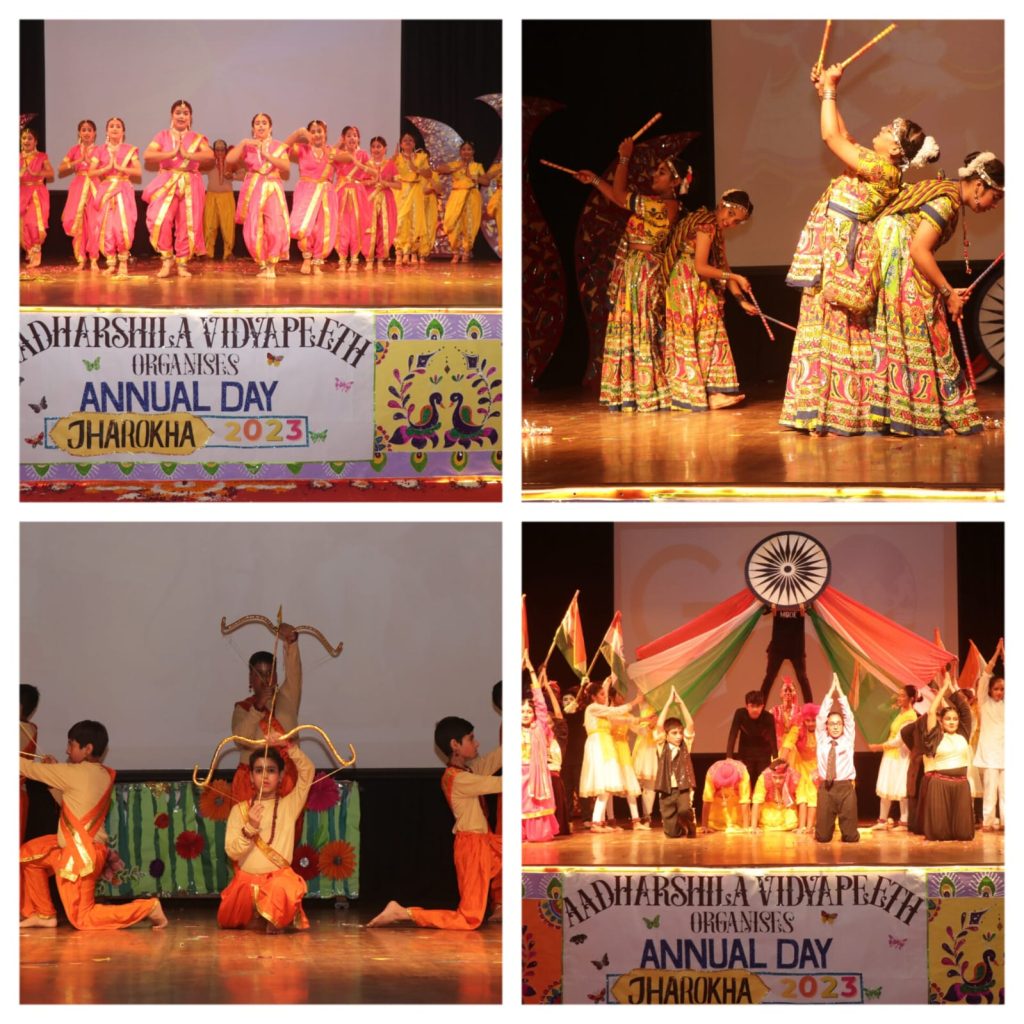 𝙅𝙝𝙖𝙧𝙤𝙠𝙝𝙖 2023
𝙏𝙝𝙚 𝘼𝙣𝙣𝙪𝙖𝙡 𝘿𝙖𝙮 (𝙑𝙄-𝙓𝙄)
(The Show celebrating PROGRESSIVE INDIA)
Aadharshila Vidyapeeth, Pitampura adorned vividness, joy and a zealous spirit of diligence and commitment with the celebration of its yet another Annual Day 'Jharokha 2023' with the budding students of class VI-XI.
Transporting audience through different timelines, the magnanimous show journeyed the rich past of our country with scenes like Gurukul and The Gospel of Asanas. Acknowledging the present, the successful Mission Moonstruck illuminated the stage with the promising flight of Aadharshila's Chandrayaan. Presenting a peep into the future, show witnessed some of the warning acts like India in 2060(English Skit) and India's G-20 Approach for future through implicit Mime acts and reflective dances. Aadharshila Vidyapeeth's show also unveiled the major sustainable solutions and India's leading role to put them into practice globally. The show also reverberated with power packed Philharmonic Maestros and the soulful Finale Act that elevated the show to even greater heights. Chief Guest, the renowned author, Dr. Ashok Chakradhar praised the enormous efforts of the school Management, teachers and students. Principal, Sri Ram College of Commerce, Ma'am Simrit Kaur too ornamented the show and lauded the grandiloquent beginning with ganesh vandana, commendable theme, compering and the exceptional performances.